People worldwide naturally prefer consuming information in their own language. Meeting this expectation − and sometimes the legal requirements to do so – fuels an indispensable multi-billion global industry that provides translation, interpreting, and localization. Based on validated and verified data from a representative sample of 462 LSPs, independent market research firm CSA Research has named Beijing Foryou Data Co., Ltd. as one of the providers leading the delivery of language services globally, ranking it as the 26th largest LSP in Asia-Pacific.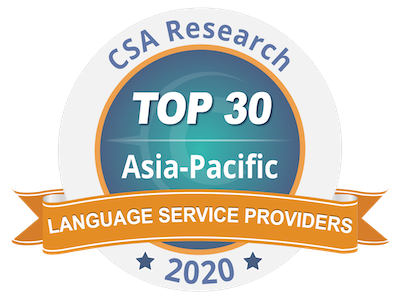 Foryou Data, established in 2003, is specialized in translation, interpreting, conference service, localization and standardization.
"Our business philosophy, 'translation standardization for standardized translation', gives us advantages in the global language services market," Dr. Meng Yongye, Foryou Data's chairman comments.
"Most people don't recognize the value of interpreting or translation until they can't understand something—and the absence of spoken or written content in their languages happens far too often," comments Dr. Donald A. DePalma, CSA Research's Chief Research Officer. "Language service providers and technology developers deliver essential translation and interpreting services."
The rankings are based on confirmed revenue from 2019—CSA Research found that the market that year for language services and supporting technologies reached US$49.60 billion.
About Foryou Data
Foryou Data is based in Beijing, branched in Nanning, Baoding and Chengde, and sets up a research institute in Beijing. Foryou Data's translation and interpreting services are strictly provided according to the requirements of ISO 17100 and ISO 18841 respectively. And as one of TAC-certified AAA translation service provider, the Company has passed such certifications as ISO 9001 Quality Management System, ISO 27001 Information Safety Management System, AAA Translation Service Certification and AAA Enterprise Credit Rating Certification.
About CSA Research
CSA Research, formerly Common Sense Advisory, is an independent market research company helping companies profitably grow their global businesses and gain access to new markets and new customers. www.csa-research.com | @CSA_Research | media@csa-research.com