Based on 2021 verified revenues, the annual rankings are the result of the language industry's most comprehensive, large-scale survey of the language services and translation technology market by CSA Research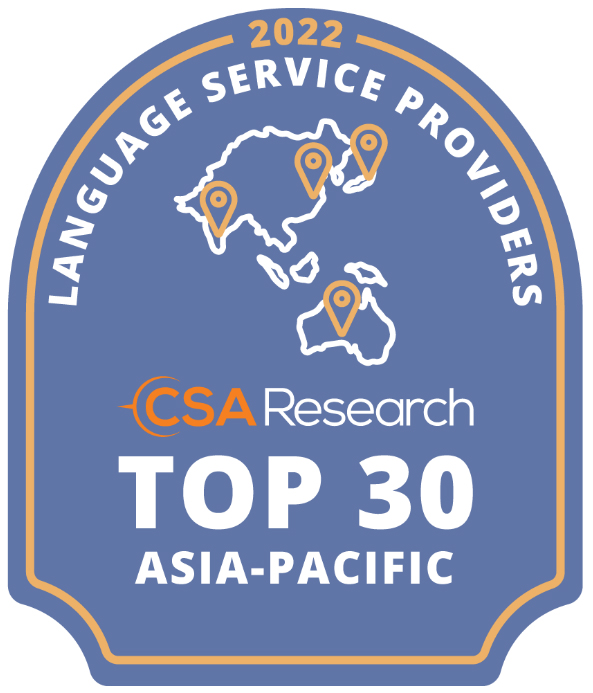 Beijing – The language services and technology industry includes more than 27,000 players worldwide, ranging from boutique local agencies to large global companies. This diverse group of language service providers (LSPs) and translation technology vendors adds up to a multi-billion-dollar global industry. Based on 2021 verified revenues, independent market research firm CSA Research has named Beijing Foryou Data as one of the providers leading the delivery of language services globally, ranking it as the 29th largest LSP in Asia Pacific.
Beijing Foryou Data, established in 2003, is specialized in translation, interpreting, conference service, localization and standardization.
"2021 is a tough year for most LSPs in the world," comments the chairman of Beijing Foryou Data, Dr. MENG Yongye, "Beijing Foryou Data maintained our revenue growth momentum, so we remain our position in the ranking."
LSPs and language technology developers support global experiences in other languages, delivering essential translation, interpreting, and localization outsourcing capabilities to organizations and individuals around the world.
"People worldwide prefer consuming information in their own language. Meeting this expectation fuels an indispensable multi-billion-dollar industry of language service and technology providers that keeps growing to support global digital transformation, help companies and governments improve customer experience, and respond to continuing globalization," comments Dr. Donald A. DePalma, CSA Research's Chief Research Officer.
Study Methodology
CSA Research uses structured and documented methodologies to ensure independent and reliable data-driven research for language service providers, technology vendors, global enterprises, and investors. The rankings of the largest suppliers are based on confirmed revenue from 2021. This is the 18th year CSA Research has studied the language services industry and the 8th year Beijing Foryou Data has appeared in the rankings.
Included in CSA Research's global market study is the ranking of the largest 186 language services and translation technology providers, ranked globally as well as across eight regions.
About Beijing Foryou Data
Foryou Data is based in Beijing, branched in Nanning, Baoding and Chengde, and sets up a research institute in Beijing. Foryou Data's translation and interpreting services are strictly provided according to the requirements of ISO 17100 and ISO 18841 respectively. And as one of TAC-certified AAA translation service provider, the Company has passed such certifications as ISO 9001 Quality Management System, ISO 27001 Information Safety Management System, AAA Translation Service Certification and AAA Enterprise Credit Rating Certification.
About CSA Research
CSA Research, formerly Common Sense Advisory, is an independent market research company specialized in the language services industry. It provides data-based research on globalization, internationalization, localization, interpreting, and translation technology. http://www.csa-research.com | @CSA_Research